http://norml.org/index.cfm?Group_ID=6650

Weekly News in Audio

May 4, 2006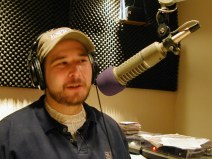 Chris Goldstein
Download (MP3)


NORML Podcasts Tops Apple's Most Listened To List


Mexican President Rejects Congressional Measure Codifying "Personal Use" Limits For Cannabis, Other Controlled Substances


Cannabis May Pose A "Modest" Risk For Those Vulnerable To Schizophrenia, Report Says


Washington, DC:
NORML Podcasts Tops Apple's Most Listened To List

Pot Programming Bests Senators Clinton, Frist In Popularity

NORML's weekly podcast now ranks as one of the most popular political audio programs available on the Internet, according to tabulations released by Apple Computer's iTunes Music Store and published in the Washington, DC newspaper The Hill.

Of the 100 most popular political podcast recordings, NORML's program ranks No. 32 according to Apple, well ahead of podcasts offered by New York Senator Hillary Rodham Clinton (No. 47) and Senate Majority Leader Bill Frist (No. 73). NORML's podcast, which began in August, features weekly news content as well as audio clips from special events, such as NORML's 2006 annual conference.

"The popularity of NORML's podcasts illustrates that there are large numbers of Americans who desire fact-based, educational information about marijuana and marijuana law reform, and that this population is increasingly turning to NORML and away from the federal government in order to obtain it," said NORML Executive Director Allen St. Pierre. "Senators Clinton, Frist, and other Presidential hopefuls ought to take note of this reality, and recognize that cannabis is rapidly becoming more popular with the electorate than they are."

St. Pierre said that NORML plans to begin airing daily podcasts early this summer.


Mexico City, Mexico:
Mexican President Rejects Congressional Measure Codifying "Personal Use" Limits For Cannabis, Other Controlled Substances

Mexican President Vincente Fox yesterday rejected legislation that sought to clarify the quantities of cannabis and other controlled substances that "consumers" may possess without facing criminal penalties. Fox abruptly abandoned his support for the measure after US bureaucrats at the Drug Enforcement Administration (DEA) and the State Department denounced the proposal, saying that it could promote "drug tourism."

As passed by Congress last Friday, the proposal set specific limits on the amount of cannabis (five grams) and other drugs allowable under federal law. Mexican law already exempts criminal penalties for those individuals who possess minor quantities of illicit substances for personal use; however, the law fails to define what amounts constitute personal use. As a result, police and judges must decide on a case-by-case basis whether to punish citizens caught possessing minor amounts of illicit drugs.

The proposed measure also authorized state and local police to enforce drug trafficking laws. Under current law, only federal police (about five percent of Mexico's law enforcement personnel) may arrest individuals suspected of selling drugs.

President Fox rejected the bill on Wednesday, stating, "Congress ... [needs] ... to make it absolutely clear in our country [that] the possession of drugs and their consumption [is], and will continue to be, a criminal offense." Officials from the US State Department and the White Office of National Drug Control Policy (ONDCP) had met with Mexico's ambassador earlier this week urging the President to "review the legislation and to avoid the perception that drug use would be tolerated in Mexico and to prevent drug tourism."

Fox said that he would send the bill back to Congress with proposed amendments.

In recent years, US officials have voiced similar disapproval against legislative proposals to liberalize marijuana and other illicit drug possession penalties in Canada, Jamaica, and Australia all of which eventually stalled due at least in part to US opposition.


Oxford, United Kingdom:
Cannabis May Pose A "Modest" Risk For Those Vulnerable To Schizophrenia, Report Says

Cannabis use may be a "modest statistical risk factor" in populations vulnerable to schizophrenia or other mental health diseases, according to a review published by the Beckley Foundation Drug Policy Programme in Britain. The Beckley Foundation is an independent think tank that analyzes drug use and drug policy.

The review, "Cannabis and Mental Health: Responses to the Emerging Evidence," finds that cannabis, like alcohol, may "precipitate schizophrenia in people who are already vulnerable for individual or family reasons." Authors add, however, that the "increased rates of cannabis use in the last thirty years have not been accompanied by a corresponding increase in the rate of psychosis in the population."

The report concludes, "The studies reviewed here suggest that cannabis is a modest statistical risk factor and the vast majority of young cannabis smokers do not develop psychosis, supporting the hypothesis that a small minority of users may be vulnerable to the effects of cannabis."

The Beckley Foundation's findings are similar to those of Britain's Advisory Council on the Misuse of Drugs (ACMD), which concluded earlier this year: "Based on the available data, the use of cannabis makes (at worst) only a small contribution to an individual's risk for developing schizophrenia. ... For individuals, the current evidence suggests, at worst, that using cannabis increases lifetime risk of developing schizophrenia by one percent."