Welcome to OaksterdamNews.com. We hope you enjoy your visit. Oaksterdam News encourages you to visit our sponsors in our Mellow Pages Listings.

The top on this page shows highlights and historic landmarks of Oaksterdam, the cannabis friendly district of Oakland California. We invite you to take a self-guided walk along its streets, described below the map key.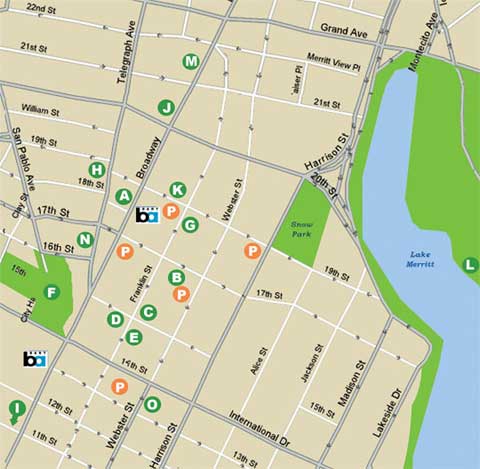 A:
Bulldog Coffeeshop, 1739 Broadway
Four Seasons Hydro, 1735 Bdwy
The Co-op Stop, 1733 Bdwy
B:
SR-71, 377 - 17th St
C:
Norcal MMJ Recommendations, 1504 Franklin
D:
Oaksterdam Gifts, 405 - 15th St
E:
Post office, 1446 Franklin St
F:
Frank Ogawa Plaza
G:
Medicann, 1814 Franklin # 901
H:
Fox Theater, 1850 Telegraph
I:
CARE, 701 Broadway
J:
Paramount Theater, 2025 Bdwy
K:
Kaiser rooftop garden
L:
Lake Merritt Park boat rentals
M:
Green Medicine Group
N:
Van Kleef Cafe, 1621 Telegraph Ave
O:
Americans for Safe Access (ASA), 1322 Webster # 208
P:
Paid parking


Oaksterdam News is a quarterly tabloid newspaper for residents and visitors alike. Our office is located at 405 15th St., Oakland CA 94612, near the heart of Oaksterdam, a cannabis-friendly district Downtown.
Start at City Hall, on Frank Ogawa Plaza, head East on 14th to Broadway and turn North. Before you is Latham Square, with a fountain and the towering neo-gothic Cathedral Building at the Telegraph and Broadway split.

Turn left onto Telegraph and you soon pass the now closed Fat Cat Cafe on the right-hand side. So dense were the cannabis clubs along the Telegraph-Broadway triangle that at one time the cafe had to post a sign telling patrons that it was not a dispensary. Across the street is the small three story building where the 420 Cafe operated. If you peer into the window you'll see murals and a skunk doll perched on a room divider.

Next you will pass a BART entrance and a few doors later is a yellow sign: Lemondrop Coffeeshop. The Lemondrop once had a candy store front and a dispensary in the basement. A few doors later another dispensary site wears paper signs announcing its closure and a new location for people to visit.

Continuing North you can't miss the massive, ornate Fox Theater on the left, in the middle of a costly restoration project. At the end of the block and across 19th Street is a beautiful Art Deco building with gold trim and sylvan murals painted in the windows. This is the licensed dispensary CARE. It's worth walking along the building's Telegraph facade before you continue east on 19th Street to Broadway.

Turn south on Broadway and on your right you will see 1755 Broadway. This is the original site of the Oakland Cannabis Buyers Cooperative where Jeff Jones first opened his dispensary on the fifth floor on July 4, 1996.

Next door is the Bulldog Coffeeshop, which once housed a cannabis dispensary. It's a good place to take a break before going south past the Four Seasons garden center to the Co-op Stop that offers vaporizers, gear and ID cards for qualified individuals with valid documentation.

Keep strolling south to 15th street, then turn East once again. On the South side of the street is Oaksterdam Gift Shop, home of the Oaksterdam News. Continue up 15th to Webster, and turn north past the YWCA to see the Green Door dispensary sign in a tall-windowed building at 1521 Webster, covered with for lease signs.

Further north, you'll turn left on 17th and walk west along the tree-lined street. Under a red canopy is SR-71, another licensed and operating dispensary.

Two other active dispensaries are further out, one on Broadway and the Oakland Compassionate Healing Center at 578 W. Grand Ave.

Turn back east on 17th one block and turn left on Harrison, to the north. At 19th you will see beautiful Snow Park to the right and cut across diagonal to Lakeside Drive and on the other side is Lake Merritt.

There is a walking path that leads into the park surrounding the lake.

In the park you can find the boat house where sailboats, paddleboats canoes and kayaks can be rented for a few dollars. You can walk the trail around the lake and catch scenic vistas or rent a gondola for a romantic sunset cruise.


---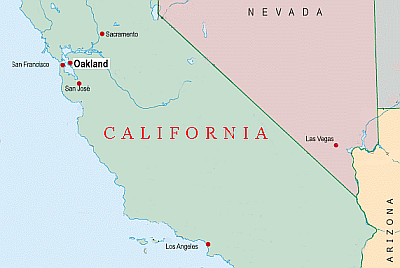 オークステルダム(オークランド)はアメリカ・カリフォルニア州サンフランシスコ・ベイアリアにあり、サンフランシスコのダウンタウンからは電車(バート)で15分、バークレイの隣にある。現在、アメリカでは最もカナビスに寛容な都市として知られている。カナビス関係のではエド・ローゼンタールやエンジェル・ライヒなどが住んでおり、近隣には医療カナビスを専門にする医師もたくさんクリニックを開いている。また、今はなきグレイトフル・デッドのジェリー・ガルシアもここを本拠にしていた。

アムステルダムのように濃くはないが、こじんまりとした美しい落ち着いた街でインスピレーションに満ちている。サンフランシスコを訪れた際には是非足を伸ばしてみることをお薦めする。ショップでは医療マリファナIDカードがないとカナビスは購入できないが、店内でコーヒーなどを飲むことはできる。